Finally, our highlight of the week had arrived, 15 of March had finally arrived. Now you might be wondering "what on Earth happened on this particular day at this particular time?" , well I'll tell you what. We were going to the one and only WAKA AMA! I was so excited, I've never participated in activities that required the use of a boat, I don't even think I've ever been in a boat! , thoughts spiraled in my head , giving me a migraine. We are ready to leave home now, we rush to the car as if we're late, when in fact its early.
When we arrived at school, my classmates and other seniors were wearing muffti (non-uniform), I walked in with my friend in our school uniform. We rush to the bathroom, stumbling over each other's clothes. Once we were ready we walked outside. I wore my P.E uniform, while she wore shorts and a shirt.
The bell rang, we started to pick up the pace while making our way to our classroom. We began the roll call to make sure everyone was here. It was time, we grabbed our belongings, making our way to the bus. My class was seated at the back, while Room 7 was seated at the front of the bus.
Our journey had begun. It was a short distance, but felt like it was taking hours due to traffic. Our destination had arrived. We all hopped off the bus, full of energy. We walked over to the site , where we sat down on the concrete ground. Our coaches introduced themselves, next our coaches demonstrated the different strokes.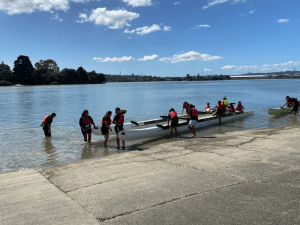 Once we were in the boats we had a wonderful time. I'm excited to see what we are going to learn about Waka Ama next time